Photo of the Day
One of the Great AFL Rivalries - The Oakland Raiders vs The Kansas City Chiefs
Sports
Parade Welcomes the Giants to San Francisco
Giants move to San Francisco in 1957 The New York Giants were seeking a new stadium to replace the crumbling Polo Grounds. Attendance was falling, the team was playing poorly, and Minneapolis was seriously courting them. At the same time, the Dodgers were being courted by Los Angeles and major league baseball would not allow the move unless another team located to the west coast. Dodgers' owner Walter O'Malley helped convince Giants' owner Horace Stoneham to make the move. The Giants played in Seals Stadium for the first two seasons. Orlando Cepeda won the NL Rookie of the Year award in 1958 and Willie McCovey won the award the next season.
Jesse Owens of the United States wins 4 gold medals in the 1936 Berlin Olympics
Babe Ruth, Cy Young, Ty Cobb, Walter Johnson, Connie Mack on hand to celebrate the opening of the Baseball Hall of Fame and Museum on June 12, 1939.
This video features Walter Johnson of the Washington Senators in 1924 pitching in his first World Series at the age of 36.
Walter Johnson, known as "The Big Train" pitched for the Washington Senators from 1907 to 1927. During that time, he won 417 games, ranking him # 2 on the all-time wins list behind only Cy Young. He was a 12-time 20 game winner, including 10 seasons in a row from 1910 to 1919. His best season was 1913 when he was 36-7 with just a 1.14 ERA. His 3,509 strikeouts ranks him # 9 on the all-time list. Johnson was elected to the Hall of Fame in 1936.
Rare footage with photos of Babe Ruth pointing to the seats to indicate to the Chicago Cubs & their fans that he was going to hit a HR in the 1932 World Series
BABE RUTH'S CALLED SHOT - It is one of baseball's all-time great mysteries. Did Babe Ruth really call his shot just before hitting a mammoth World Series home run? The undisputed facts of the events were as follows: It was October 1, 1932, Game 3 of the World Series in Wrigley Field, with the Yankees leading the Cubs 2 games to 0. In the top of the 5th inning, Ruth was at bat with the score tied at 4, facing Cub pitcher Charlie Root. The Cubs' bench was heckling the Babe as he took strikes one and two. Now, at this point in time, fact and myth get a bit jumbled. Ruth made some type of outward gesture with his bat, but it is unclear whether the gesture was toward the pitcher, or the centerfield bleachers, as Ruth proudly proclaimed for many years thereafter. Either way, Ruth smashed the next pitch well beyond the centerfield fence, for one of the most memorable and debated World Series home runs of all-time. An interesting side note to this story is that on the very next pitch, Lou Gehrig, forever playing in Ruth's shadow, also hit a home run, his 2nd of the game as well, knocking Charlie Root out of the game. But as was typical for Gehrig, his two home runs in the game paled in comparison to the legend of the mighty Babe's called shot.
Southern Cal scored 49 unanswered points in the second half to defeat Notre Dame in 1974
Southern Cal Roars Back November 30, 1974 Southern Cal 55 Notre Dame 24 Attendance 92,516 Disbelief is the only word I can use to describe what I saw on the sunlit grassy backdrop yesterday afternoon at the Coliseum. The Fighting Irish dominated all but the last minute of the first half, roaring to a 24-0 lead. The Trojans Pat Haden hit Anthony Davis on a short touchdown pass with 10 seconds to go in the opening half to begin the most exhilarating 17 minutes of football I and I am sure everyone in attendance have ever witnessed. Anthony Davis took the opening kickoff of the second half 102 yards for a touchdown and the Trojans went on to score 28 more points in the quarter as part of a 55 unanswered-point run over less than a 17 - minute span. Four Anthony Davis touchdowns and four Pat Haden touchdown passes were a significant part of this historic game that is now one day old and already assured of infamy. "I knew we had it won when we passed them," Davis said. "They were a crumbling team. I could see it in their eyes, `We turned into madmen.' And that's what we did. We turned into maniacs." Final score USC routed Notre Dame 55-24. But the final score and the fact Notre Dame lost, was clearly overshadowed by the sheer pounding and overwhelming dominance of that 17 - minute fury. As a sportswriter, I am speechless, what more can I say. "If people don't know how good the Trojans are, I think they found out today," said Davis. Clearly an understatement.
They seemed to thrive together
Williams and DiMaggio
Ali - Frazier
Bench and Morgan
Magic and Bird
Russell and Chamberlain
Williams and DiMaggio
Ali - Frazier
Bench and Morgan
Magic and Bird
Russell and Chamberlain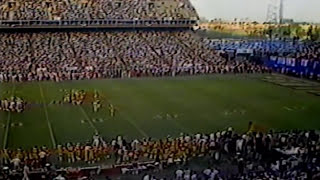 Game of the Day
First USFL Championship Game in 1983: Michigan Panthers vs Philadelphia Stars - Sunday, July 17, 1983 - Attendance: 50,906 - ABC Television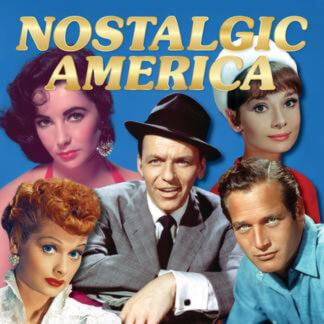 Collectible Editions
You have a choice of three versions of our collectible edition to select from. 52-pages, 100-pages (special oversized edition) and our 104-page version (hard cover). Enjoy your stroll down memory lane!
Learn More »
Looking for More?
Fret not, we've got more! Pick a category below to see what we've got.